Cotton Candy by Esco Bars is a cotton candy flavor blend that tastes as if it comes straight from the carnival. You'll love every part of this vape juice, as it gives you that same sugary candy flavor with every puff that you take. Your airways will be filled with deliciousness.
Esco Bars of Pastel Cartel is with 6mL Prefilled E-Liquid and a 1000mAh Battery! Jump into a mouthwatering flavor experience with this amazing blend of flavors. It is a for sure all-day vape that we cannot wait for you to try for yourself.
Cotton Candy by Esco Bars Features:
Disposable device
Salt Nicotine: 50MG
Prefilled with flavorful e-liquid
E-liquid Capacity: 6ml
Puffs: ≈2500 puffs
Pack of 1 device
Check out all Esco Bars disposable pods, click here
Note: Be sure to remove the rubber stopper from the top & the bottom sticker of the Device before using.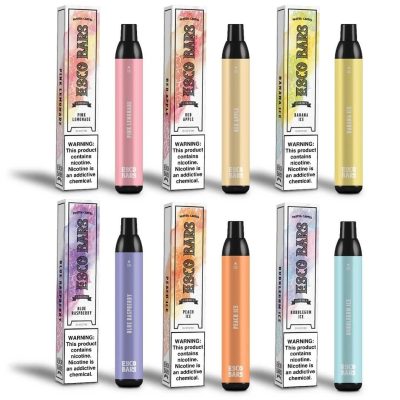 What are disposable Pod Systems:
Disposable e-cigarettes are the easiest devices on the market. Each disposable vape comes 100% ready to go, straight out of the box. With these devices, you don't have to worry about refilling your juice, charging the device, or literally anything else. Just use the e-cigarette until it runs out of juice. Once the juice is gone, the device is done with – just toss it out and pick up a new one! It really can't be any simpler than that.
Another bonus is that these disposable units offer a remarkably similar experience to smoking. While many experienced vapers opt for more complex and customizable vape options, the disposable e-cigarette will often play an important role in the transition from smoking to vaping.
Whether you're a beginner looking to give up smoking or a vaping veteran picking up some easy-to-use portable e-cigarettes, you'll find exactly what you're looking for right here. We carry all the leading disposable vape systems from Sig, Myle, Dinner Lady, Maskking, Tugboat and more. From pineapple lemon to traditional tobacco flavors, there's a disposable option for every palate, lifestyle, and vaping preference.