Pod Salt is now among the most well-known vaping brands in the UAE. The Product offered by the online store of Vape Dubai distinguishes it from the other competitors with its eye-catching appearance and exceptional quality by leveraging a wide selection of vaping necessities for all vaping fanatics. There is a wide variety of tantalising flavours available at this leading vaping brand in Dubai. Additionally, owing to its emphasis on intense flavour crossovers, This Salt has developed a reputation among many vapers as a convenient and standard product.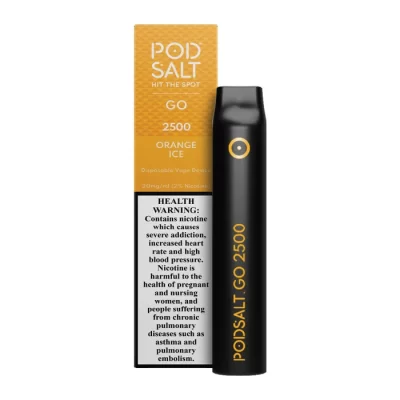 The nicotine salt e-liquids that Pod Salt provides are specially made and come in a range of flavours. Whether you prefer the cooling Ice Menthol or the energising Apple, Pod Salt is sure to have the flavour that's suitable for you.
1. The nicotine salt e-liquids that Pod Salt provides are specially made and come in a range of flavours. 
2. You can get our nicotine salt e-liquids in either 20mg or 36mg of nicotine salt strength from the online store of Vape Abudhabi & Vape UAE.
3. The whole Pod Salt line's composition contains salicylic acid, which softens the stronger alkali of high-strength nicotine salts.
5 Astonishing Features Of Pod Salt By Vape Dubai
Here are a few of the e-juice by Pod Salt's notable features:
Extensive flavour lineups:
A number of flavours of Pod Salt are offered, including the popular Havana Gold and Cigarette as well as the cool Mango Ice and sweet Strawberry.
Two distinct strengths are available:
Choose 20mg or 36 mg nicotine salt e-liquids for the most personalised vaping experience. The best salt e-liquids are vaping necessities that are more like smoking a cigarette, as they work quickly and last longer than ordinary e-liquids.
Continuously delivers the best vaping experience:
The composition of the Pod Salt by Vape Dubai Store contains salicylic acid to mellow the harsher alkali of high-strength nicotine salts, making them all enjoyable and energising to vape.
The vape pod is lightweight and compact. It requires little maintenance due to its convenient design. So, if you're looking for a great vaping experience at a great price, this product by Vape Dubai shop is an ideal choice.
Even powerful throat hits and high THC concentrations are conceivable. As a result, Pod Salt can enhance your vaping experience if you appreciate nicotine by incorporating nic salt e-liquids.
Vape Dubai Dispels Myths About Pod Salts!
Since pod salt by Vape in Dubai & Vape UAE is extensively used and has a substantial customer base, a wide variety of comments and reviews may be heard from a wide range of people.
Due to the conflicting ideas, numerous myths about Pod Salt may have emerged. Some of these opinions may be accurate while others may be untrue. One has to understand them on a fundamental level in order to recognise the truths from the myths.
FINAL-THOUGHT
People are looking for better and more effective ways these days to satisfy their demands or habits, and the market for such vaping devices is undoubtedly expanding. As a consequence of being more advantageous for customers and the environment than traditional cigarettes, pod salts from vape Dubai Shop are growing in popularity. Due to their above-mentioned effectiveness, they also exist in a broad range and are more widely used.